Here's a quick Saturday recap before we start our whirlwind Sunday!
9:30: Hot Lemon Water
I must have not used enough egg whites because I only managed to squeak out 2 'cakes this morning, but they were really dense and even better then the
3 skinny minis
J
11:15am-12:30pm: Power yoga class
My Saturday morning teacher weighs about 85 pounds and she will
KICK. YOUR. ASS
. with a multitude of chatarungas, 1-armed downward dogs and hero to bridge poses. NOT for the faint of heart
J
1:30pm: Lunch- Toasted Vanilla Greek Oikos Yogurt with a sprinkle of Flax seed & toasted almonds & Coffee with creamer
This wasn't a low-fat flavor
(had 4.5 grams),
but TOASTED COCONUT was just screaming out to me from the shelves. And, quite frankly, those 4 grams of fat made this baby taste like a creamy & luscious DESSERT
J
Between that & the flax and almonds, this kept me so full!
4:30pm: Snack-Apple
6:30pm: Dinner-
Wasn't the 'original plan,' but after loosing track of time moving my Mom into her new home
(!!!!),
I had
2 slices of pizza
in between lining kitchen shelves
J
Dinner may have been last minute, but in this house: Dessert had been simmering for
HOURS
!!!!
J
Into my small slow cooker, I whisked:
1/2 can fat free condensed milk
1 can light coconut milk
2 oz. chopped dark chocolate
1 tablespoon unsweetened cocoa powder
Drop of coconut & vanilla extract
And let this sit on low for 5 hours! The last hour I set the slow cooker to 'keep warm' and that allows the hot chocolate to REALLLLLY thicken up
Even with the 'lighter' ingredients, this hot chocolate was sooooo rich & almost pudding-like. It's the closest you will ever get to drinking a chocolate bar
J
Topped with a little whipped cream & toasted coconut and we were whisked off into a blissful chocolate coma
J
We sipped while finally catching up to the rest of the planet and finally got to see
Ted
. HIL-FREAKING-LARIOUS! Scott almost chocked laughing 3 times
J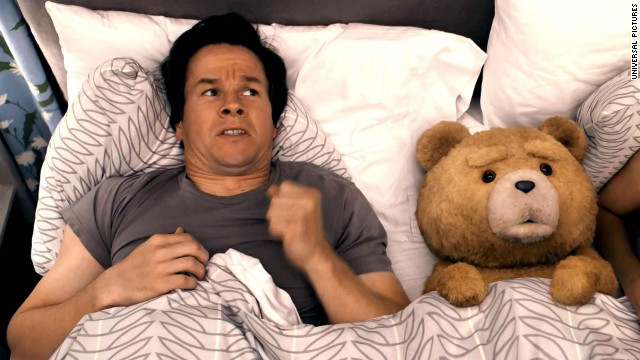 Today we have some running around to do, BUT have a gooooooooood lunch trip planned. Can't wait to tell you about it tomorrow! Have a great Sunday!